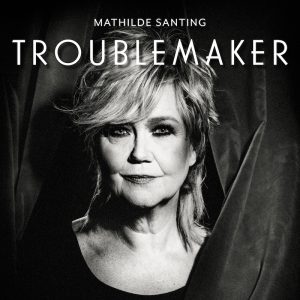 At age seventeen, Mathilde Santing turned down her first offer for a record deal. From the very beginning she shunned compromises, and her quest for musical quality, authenticity and independence continued undiminished. Ever since her television debut with Sonja Barend in 1981, she has captured the hearts of millions of people.
"Larger than life" — such are the self-written songs on Mathilde's new album Troublemaker. Through six compositions we get to know the singer: her characteristic desire for intensity and musical and dramatic counterpoint, enriched with experience and sense of humor — the now sixty-year-old Mathilde has it all. With her extraordinary voice and technical mastery, she expresses the innocence of a seventeen-year-old girl as well as the power of a matured soul singer.
Troublemaker is Santings most intensely charged and confessional album to date. Her own songs are lyrical, with excursions to film noir sound tracks and the bête noire of Nick Cave. Mathilde effortlessly uses her vocal and emotional color palette — fragility and strength, the ability to challenge and lure, she has it all. #Gender equality comes natural to Mathilde, thanks to her personal experience in matters of bisexuality and feminism. "Same Old Story," for example, addresses a #MeToo theme through the eyes of astrology: "Same old Venus, Same old Mars".
With her music, Mathilde draws us into her magical world, where she surprises and captivates us. This same intensity also characterises the two cover tracks: "River Man" by Nick Drake (after a poem of Emily Dickinson) and "The Tracks of My Tears" by Smokey Robinson.
During her career, Santing has won three Edisons and a Golden Harp and hit the charts with "Beautiful People" and "Wonderful Life." She also performed Dutch songs such as "Appels op de Tafelsprei" (with a video clip by Erwin Olaf) and "Inspiration" from the musical Joe. In 2007 Mathilde's oeuvre earned her a royal award.
Troublemaker was produced by Attie Bauw, who brought together some of the best Dutch musicians for the album: Martijn van Agt, Aram Kersbergen, Mats Voshol, Dennis Duchhart and Roel Spanjers.
Troublemaker is an important next step in Santing's development from singer to versatile musician, song writer, band leader and performer.
A musician. An artist. A song writer. An idealist.
A Troublemaker
Troublemaker will be released worldwide on October 4, 2019 and will be released by Golden Label | MARS. Label Group, distributed by The Orchard, a division of Sony Music.
GIVE ME A REASON
Give me a reason to follow
Give me a sign when to stop
You never liked this confusion
And I was prepared to give up
Show me what you have to offer
Give me the right to say no
Some of them asked me to stay here
Some of them asked me to go
Something is left unspoken
The urge to be honest grows strong
My heart has refused to be broken
My mind won't admit that I'm wrong
I'm wrong
I found my way tot the crossroads
But I had no reason to choose
Without any sense of direction
You were the perfect excuse
Always addicted to drama
Safe in the eye of the storm
Doomed like a moth that is caught in
The bright light to which it was drawn
(Give me something give me something)
I painted myself in a corner
I couldn't afford having doubts
I cannot deny any longer
That I need your help to get out
Something is left unspoken
The urge to be honest grows strong
My heart takes the chance to be broken
My mind takes the risk that I'm wrong
I could be wrong
Give me a reason
Give me a reason
CALL IT BY ITS NAME
When we first met way back in spring
I knew your words didn't mean a thing
In the middle of the night that's when you call
I waited all summer and now it's fall
Call it by its…
When you are like me always on the run
Hittin' on trouble while I'm looking for fun
Until now I had little self-esteem
I thought that life was only a dream
Call it by its…
I know that things should be getting better
But right now they're only getting worse
And I can't ask the devil for a blessing
I can't ask an angel for a curse
Now I'm all grown-up I got psychoanalysed
Now I really understand why people euphemise
Life is not a dream
Life is not a song
Love will lead the way to where we belong
Call it by its….
Call it by its …
Name
TRACKS OF MY TEARS
People say I'm the life of the party
'Cause I tell a joke or two 
Although I may be a-laughing loud and hearty
So take a good look at my face
You'll see my smile looks out of place
If you look closer it's easy to trace
The tracks of my tears

Since you left me if you see me with another crowd
Seeming like I'm having fun
Although they may be cute
They're just a substitute
Because you're the only one
So take a good look at my face
You'll see my smile looks out of place
Look a little bit closer it's easy to trace
I need you
Oh yeah, since you put me down
My smile is my make up

I wear since my break up with you

Baby take a good look at my face
You'll see my smile looks out of place
Look a little bit closer it's easy to trace
RIVERMAN
Betty came by on her way
Said she had a word to say
About things today
And fallen leaves
Said she hadn't heard the news
Hadn't had the time to choose
A way to lose
But she believes
Going to see the river man
Going to tell him all I can
About the plan
For lilac time
If he tells me all he knows
About the way his river flows
And all night shows
In summertime
Betty said she prayed today
For the sky to blow away
Or maybe stay
She wasn't sure
For when she thought of summer rain
Calling for her mind again
She lost the pain
And stayed for more
Going to see the river man
Going to tell him all I can
About the ban
On feeling free
If he tells me all he knows
About the way his river flows
I don't suppose
It's meant for me
Oh, how they come and go
Oh, how they come and go
TROUBLEMAKER
I asked a man a kiss even though
It really goes against all I know
It was an offer he could not refuse
And now I think of what I stand to lose
I realise I made a big mistake
And in the night it keeps me wide awake
You cannot eat and still have your cake
And now I've said enough
Troublemaker
Promise breaker
Romance faker
Now I've said enough
I call my friends when I am desperate
They give advice, I do the opposite
Like when you held my head and made it spin
I tried to lift my heals but they dug in
I know a guy and he's from Tel Aviv
He has all kinds of tricks up his sleeve
And make me laugh is what he did achieve
And all is fair in love
Trouble breaker
Promise maker
Boobies shaker
All is fair in love
Troublemaker
Promise breaker
Romance faker
All is fair in love
Honey sucker
Midnight trucker
Now I've said…
Now I've said enough
HOWEVER IT HURTS
It's the five minute call
in this old music-hall
The only dancin' I see
is on the wall
Soon they will dim the lights
for a worn-out delight
Girls with lipstick and laddered tights
It's wodka and it's beer
that's all they serve in here
This is the bitter life we chose
However it hurts the most
This love was like a suit-case
that I never unpacked
It took me on the road
And all the kings horses
and all the kings men
couldn't put my life
together again
It's wodka and it's beer
that's all they serve in here
This is the bitter life I chose
However it hurts the most
It's the end of the song
and the end of the show
and the end of the line for us
As we say our goodbyes
I will fail to disguise
that it scares me to look in your eyes
They don't do curtain calls
The curtain simply falls
And I go from pillar to post
The way it hurts the most
So choose your exit now
or loose me in the crowd
I advise you to leave
However it hurts the least
SAME OLD STORY
Not just a song and dance
Another fine romance
It's beating hard and fast within my chest
Why all of a sudden I'm strangely impressed
Can it be good or is it just sad
to be cravin' the love that I never had
I'm in my usual corner
Under the exit sign
You launch a charm offensive
And cross the line
It's nothing new, you just play your part
With pins and needles instead of a heart
And as for me I'm heading off
Into the zodiac's rabbit hole to get me some love
Clearly I'm just not the woman
You're looking for
'Cause maybe here's a woman
ith a whole lot more
Same old story different song
Made for us to sing along
Same old Venus same old Mars
Playing games beneath the stars
We dance on Saturn's rings
Lo and and behold
(Here comes)
Hopeful as the portal opens
(Hold tight)
To let the Universe shine in
It's the same old story but a different song
They're playing it for us, yeah, so we can all sing along
The same old Venus and the same old Mars
Just playin' games yeah, beneath the stars
Listen, listen, to that merry sound
Merry, merry, merry go round
Same old story
Same old story
Same old story, but a different song
GIVEN
Given a garden
Given a gate
Given a warning
Given too late
Given an apple
Given a snake
Given a heart
Given an ache
Given a midnight
Given a match
Given a surface
Given a scratch
Given a kitchen
Given a cook
Given my eyes
Giving a look
Take all the glasses
Take all the drinks
Take all the drama
Take all the shrinks
You are a player
Using your tricks
I am a junkie
Given a fix
Given a chance
Given a choice
Given the knowledge
Given a voice
Given the score
Given a test
Give it some time
Give it a rest
You take things too lightly
And I take 'm too slow
Take it from me
You have to go
Given a reason
Given a rhyme
Given a mountain
Given a climb
Given I'm stubborn
Given I'm wrong
Given I'm changing
Given this song
ALBUMCREDITS TROUBLEMAKER
Mathilde Santing : vocals
Martijn van Agt: guitars
Aram Kersbergen : bass
Mats Voshol : drums, percussion, vibes
Roel Spanjers : Hammond organ, piano
Pete Whitfield : strings
Dennis Duchhart: extra's (ears, licks, samples)
All arrangements by the team: Attie Bauw, Martijn van Agt, Aram Kersbergen, Dennis Duchhart.
Strings on Same Old Story and Give Me a Reason arranged by Pete Whitfield. Strings on Riverman arranged by Dennis Duchhart
Recorded at Wisseloord Studio's, Hilversum
Produced, Engineered and Mixed by Attie Bauw
Mixed at Bauwhaus, Amsterdam
Mastered by Sander van der Heide at Wisseloord Studio's
FOTO: TOONEN-WIENTJENS.COM
Make-up artist: JEDIDJAH KUIJTEN
Sleeve design Studio Tabak
Special thanks to Joost van den Bosch KEF/GP Acoustics and David Grand Brainspotting NY
Thanks for decades of invaluable support:
Reinoud Eleveld, Erik Hendriks, Gé Wegman and John Tilly
Give Me A Reason
lyrics Mathilde Santing
music Mathilde Santing, Aram Kersbergen, Ward Veenstra
Call It By It's Name
lyrics Mathilde Santing,
music Mathilde Santing, Martijn van Agt, Ward Veenstra
The Tracks Of My Tears
lyrics and music Marv Tarplin, Smokey Robinson, Warren Moore
River Man
lyrics & music Nick Drake
Troublemaker
lyrics Mathilde Santing
music Mathilde Santing, Maarten van der Grinten
However It Hurts
lyrics Mathilde Santing
music Mathilde Santing, Martijn van Agt, Maarten van der Grinten
Same Old Story
lyrics Dennis Duchhart, Mathilde Santing, John Tilly
music Dennis Duchhart
Given
lyrics Mathilde Santing
music Mathilde Santing, Martijn van Agt, Maarten van der Grinten